Why we chose an 80-
series Land Cruiser?
You learn a lot when you are trying to buy a vehicle that will become the center of your world for the next 18 months – your home, your kitchen, your transportation, your safety net, your dog's home – its a lot of pressure. We searched far and wide for the perfect partner for this journey and it has been educational. In the end, I think we made the right decision. We ended up deciding on an 80-series Toyota Landcruiser. The 80-series has been great for this trip because of the type of terrain we have encountered. It has solid axles and a Japanese bus transmission...perfect for those rough Guatemalan roads. Also the ECU is more limited in comparison to the 100-series...that keeps it a little more simple under the hood. Everything in the engine bay is easily accessible which helps with any type of on-the-road fixes. Plus it has fantastic ground clearance, especially with the OME 2.5" lift.
On June 19th, 2015 we flew down to Orlando, Florida to pick up our new Land cruiser.
This is what we were told about our Landy when we bought her –
Recent Repairs
(all done by Toyota Dealer with Toyota parts):
Serviced Factory Electric Differential Lockers
All Seals Replaced, including just recently rear main seal, and the head gasket for preventive maintenance at 100k by original owner.
New Water Pump
Power Steering Pump (including all lines)
All Fluids Changed in July
Drive Shafts Rebuilt and Re-balanced
Sweep Seals Replaced on Front Axle
New O2 Sensors
New Front Locking Differential
Spark Plugs and Wires
New Brake Booster
Master Cylinder
Load Sensing Proportioning Valve
EFI cleaning, Intake Manifold cleaning, Air Flow Sensor cleaned
New EGR Valve, New EGR Modulator, EGR coolant Sensor
All New Vacuum Lines
New Thermostat, Coolant Temp Sensor
Oil changed and air filter changed regularly
When we flew down to Orlando to pick her up, she was FILTHY. I should've known there might be hidden problems under all that dirt. We did everything we thought we were supposed to do when you buy a vehicle – we ran the carfax, took it to Toyota for a full inspection (passed with flying colors), compared her to other similar Landcruisers, but she still had quite a few issues. We were so excited and had already spent the time/money flying there, etc. that we decided we would just fix anything that it might need.

The main problem was that she burned oil. We didn't notice this until we got back to Nashville. Yes, it is normal for 80-series landcruisers to burn oil – but it is not normal for them to burn this much oil. The good news was that she wasn't blowing massive amounts of blue or black smoke when we drove, just some white puffs when we started it and if we accelerated hard from a dead stop.
The problem: The engine's valve stem seals. The fix: a top-end engine rebuild.
The winch line was also destroyed. The guy who owned the car before us clearly didn't know how to pull someone out properly and passed it off to us as a usable line. Nope, not with the trip we are taking. We replaced the steel cable with a Synthetic Amsteel Blue Winch Line from Southeast Overland.
Also she ran HOT. Like so hot that you had to speed up when you walked past the front of the car so you didn't get burned. The air conditioner would quit working sometimes while driving on the interstate because of the temperature. We took off the previous owner's insulation in the engine bay, added the header wrap, ARB snorkel and modified the blue fan clutch with a higher-weight fluid. That combo really cooled it down. We've had no problems with the engine bay temperature or air conditioner since.
The whole truck is completely sound proofed with Dynamat: under the hood, carpets, doors.
Center Locking Diff Switch, with pin mod.
CX Racing Headers with High Flow Cats
Borla exhaust system
Front ARB bumper with Warn 10,000 lb. Winch
Slee Rear Bumper with Factory Hitch, Rear Tire Carrier and Jerry Can Carrier
Slee Transfer Case Skid Plate
Old Man Equipment 2 ½ inch Lift Kit with Heavy Springs to accommodate extra weight or towing
Rear Subwoofer and Amplifier
33″ Nitto Terra Grappler A/T Tires
Spidertrax 1.5″ – 6 on 5.5″ Wheel Spacers
Baja Full Roof Carrier Rack, with light rack (we modified the roof rack so our rooftop tent didn't sit up so high)
6 IPF Lights up front and 3 IPF Lights in rear
ARB 80 Quart Fridge/Freezer (massive)
IBS Dual Battery Management System
ARB Safari Locking Double Drawer System in rear
JVC Touch screen Dvd player
Rear View Camera
Viper Alarm with Remote Start
CVT Mt. Shasta Rooftop Tent and Annex with anti-condensation mat and security nuts – this thing is AWESOME. If you haven't seen how a rooftop tent works, look it up on youtube – its very cool. We will be posting our own youtube video of the setup/takedown process soon.
CVT Annex with custom re-enforced brackets
Custom steel security bars on all of the windows. Removable security bars on the front driver/passenger windows
Custom steel shelf
Custom addition to cargo barrier
Hi-Lift Jack and accessories
Spare-tire grill
Expedition Portal Trash-a-roo
Slee Rotopax Pivot carrier (modified for Slee jerry can basket)
13.3lb Propane Tank mounted on a Powertank bracket
VAAIR Air Compressor and auxiliary tank
Club anti-theft device (our worst nightmare is our car getting stolen early in the trip so we are taking multiple measures)
We replaced both batteries and put in 2 matching Duralast 31Ms (2 unicorns)
Wrapped the headers in DEI Titanium Exhaust wrap (made from lavarock)
Installed an ARB Safari snorkel -Installation details are here
LED interior lights
V-Kool security film on all windows
Blue fan clutch modification with 20K fluid
Custom locking steel box in place of back seats
Tuffy locking center console modified to fit the landcruiser
Custom graphics on hood and side panels
Recovery gear including Maxtrax, ARB tire repair kit, tree saver, etc.
Custom kill switch
…Plus a ton of other things that I can't remember at the moment…I'll add to the list when I think of them.
We decided to get the landcruiser in tip-top shape mechanically before we left the states in order to minimize any problems we might encounter along the way. I did a ton of research and got multiple quotes from different shops, but I settled on getting the work done by the legendary Robbie Antonson of Adventure Off Road in Boulder, CO (aka PowderPig on the forums). He wasn't the cheapest or the most expensive, but I knew the quality of work would be spot on so we spent 3 weeks in Colorado getting all the work done.
If you want to see more about the repairs, check out our AOR Repairs Page.
We also ended up having a whole new exhaust system with custom high-strength brackets installed from the headers back. This quality work was done at Boulder Muffler in Boulder, CO.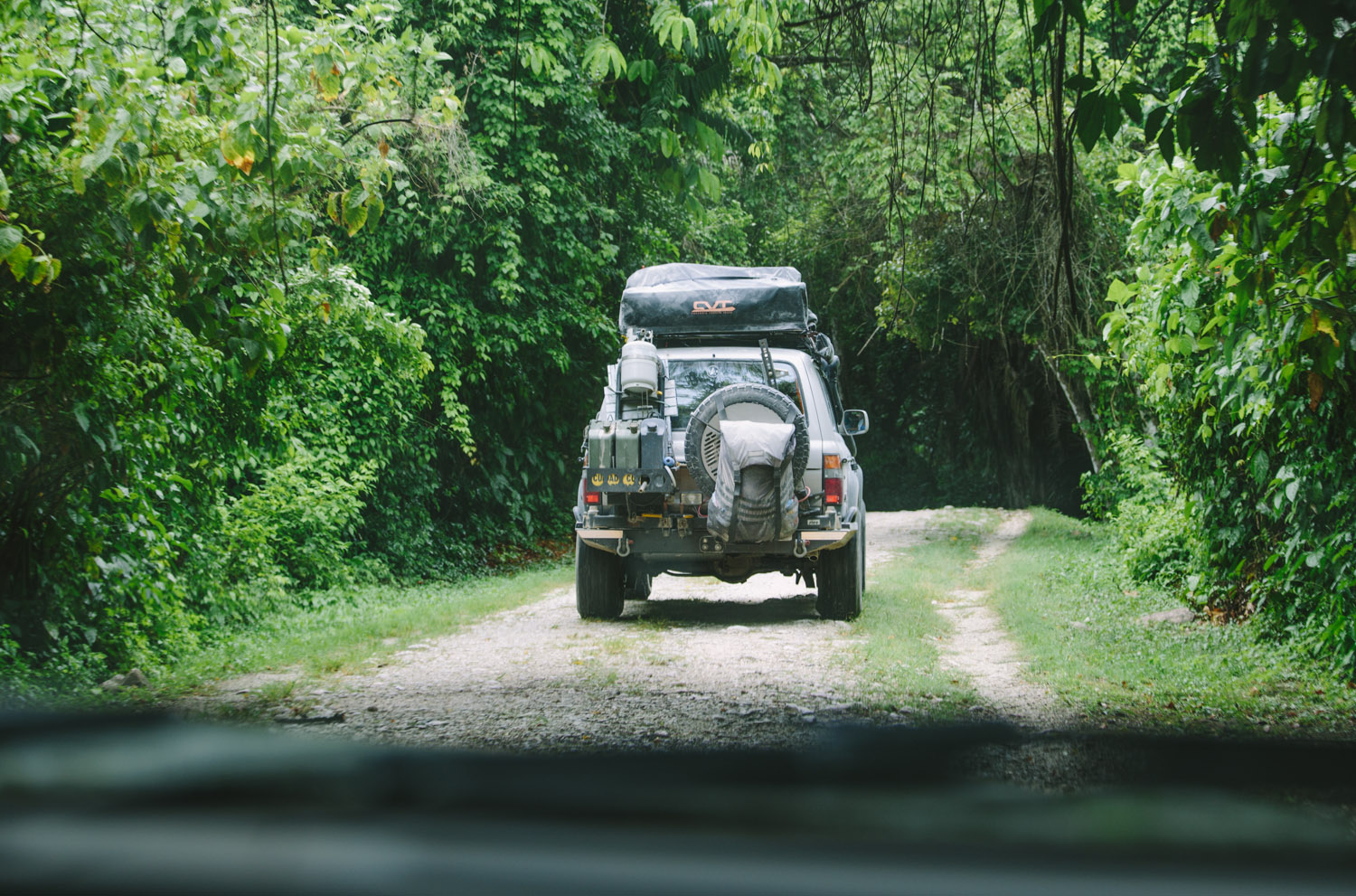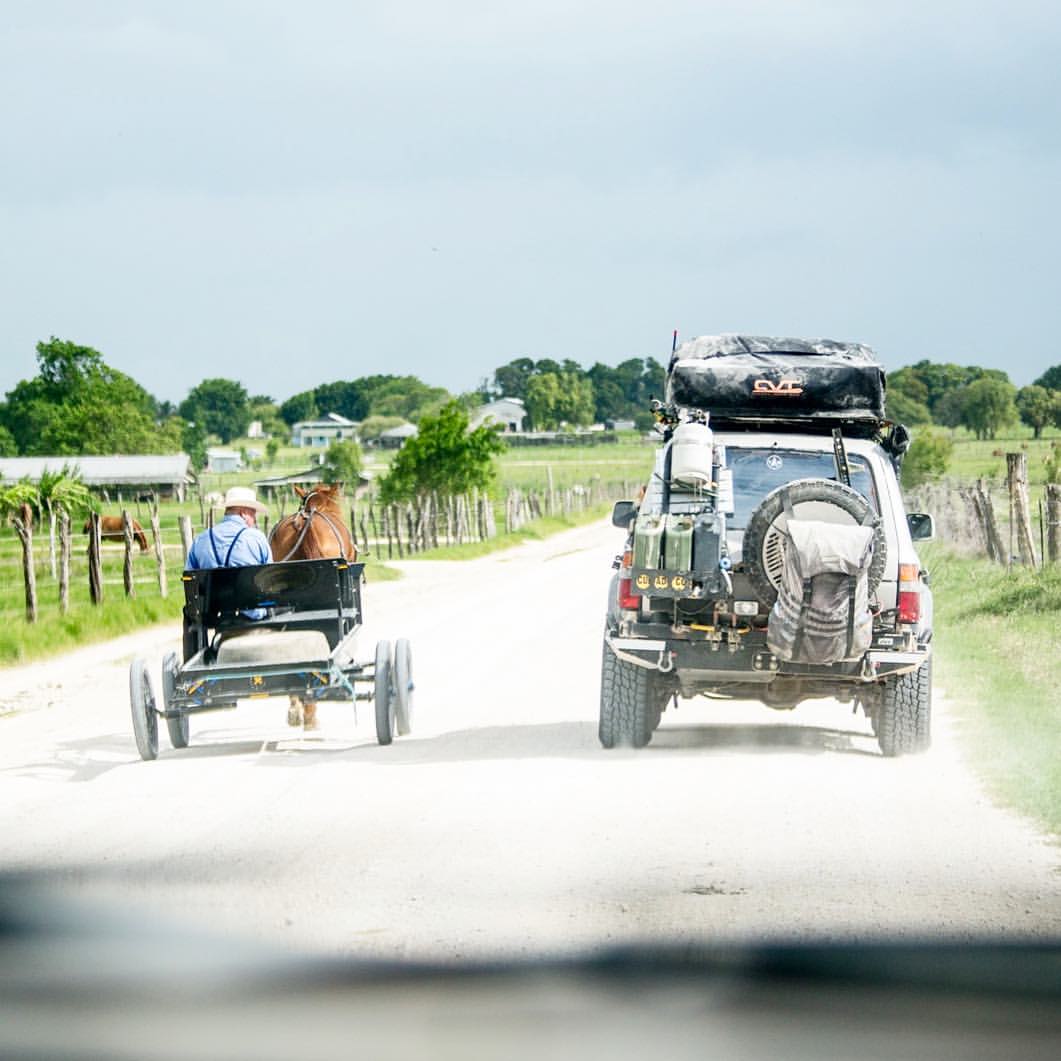 Now she purrs like a kitten. She's much more responsive going up hills, and now I can actually pass people on the interstate…that was not happening before. I would recommend AOR and Boulder muffler to anyone that gets a new cruiser. Robbie knows how to work on them with his eyes closed and knows exactly what wear and tear to look for in a higher mileage Toyota. We have had ZERO problems so far and we've beat the hell out of the landcruiser on the washboard roads, potholes, topes, etc. in Baja.